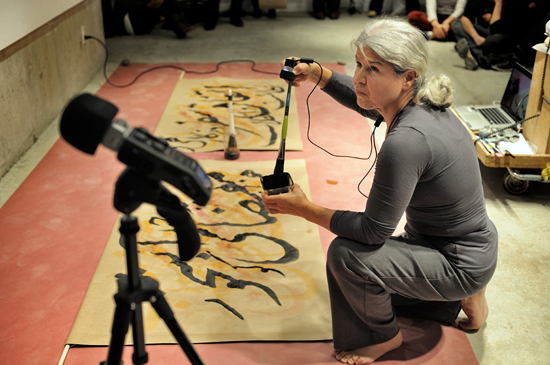 With guest artist Heather Hermant
Artscape Triangle Gallery, 38 Abell Street, Toronto
Thursday, October 9, 2014
Download pamphlet
• • • In 1765, Mirza I'tisam al-Din, a munshi in the service of the East India Company traveled to England on a mission from the Mughal Emperor of India, Shah Alam II, to translate and explicate the emperor's letter in which he sought his British counterpart's support against his domestic enemies. The commander of British forces in India who was firmly loyal to the East India Company, suppressed the letter and later presented to the English King the 100,000 gold rupees sent as gift by the Indian Emperor on his own behalf and that of the Company. His mission betrayed, Mirza returned to Bengal to witness the rapidly expanding British colonization of India.
In this new site-specific performance Gita Hashemi collaborates with guest artist Heather Hermant, fusing embodied calligraphy with live reading to revisit and retrace Mirza I'tisam al-Din's journey. Wonders of the Sea explores East-West encounters and notions of wonder, curiosity, desire, spectacle and spectatorship through the perspective of a pre-colonial subject whose account is the first travelogue of Europe written in Farsi.
The performance opened as a participatory space from 4 to 6 pm during which the audience engaged in the performance processes and interacted with the artists. The full performance was streamed live. Presented in collaboration with le Labo, Francophone Media Arts Centre in Toronto.
About the Guest Artist
Heather Hermant is a Toronto-based poet and performer, curator and scholar who has worked in spoken word, video installation, "new" media, physical theatre, sound, social practice and intersections thereof. Her interdisciplinary theatre work ribcage: this wide passage, based on the story of an eighteenth century Jewish woman who passed as a Christian man to arrive to Quebec and was deported, has been translated to French by Nadine Desrochers as thorax : use cage en éclats. Both are upcoming at Vancouver's Firehall Arts Centre in March 2015. ribcage premiered at Le MAI, Montreal. Heather's one-to-one performance Aujourdhuy / This Day, 1738, which stages an eighteenth century interrogation with audience as participant, has been presented at Rhubarb Festival, and in Budapest, Hungary. Heather's installation and curation collaborations with Melina Young have been presented at Gardiner Museum, Toronto (Nuit Blanche 2010) and by ShanghaiLGBT, Shanghai, China. Heather is currently completing a PhD in Gender Studies at Utrecht University, The Netherlands, and she teaches Community Arts Practice at York University, Toronto.
Acknowledgements:
I am grateful to Dr Mohamad Tavakoli-Targhi for sharing with me the original as yet unpublished text of Mirza I'tisam al-Din'S travelogue.